In the early 19th. century almost 500 windmills were at work in Suffolk, mostly used for corn grinding, but from then on their numbers declined, slowly at first but rapidly after 1900, in the face of competition from large steam powered flour mills and smaller farm mills driven by steam or internal combustion engines. Today just 37 are left and of these only half retain their machinery.
The earliest recorded windmill in Suffolk is generally held to be the one at Bury St. Edmunds which so angered Abbot Samson in c.1191. This would have been a post mill, the earliest type of European windmill. By the late 13th. century there are numerous documentary references, suggesting that they were commonplace by that time. It is impossible to say how many windmills were standing during the years up to the late 18th. century but it is clear from the frequency of references that a large number existed, perhaps as many as 300.
Tower mills, with masonry towers, and smock mills, with timber framed towers are the other types of windmill found in Suffolk. The origin of the tower mill is not known but there were examples recorded as early as the 13th. century elsewhere. In Suffolk they were really a product of the 19th. century, only 5 or 6 standing in 1783. Smock mills are thought to have been invented by the Dutch in the late 16th. century and there are references to a "Dutch windmill" at Lowestoft in the 1670's which must have been a smock mill. The Dutch type of smock mill differs in construction from the English type which seems to have become fashionable in the mid 18th. century. In 1783 there were approximately 17, many of which were used for marsh drainage in the fenland and broads areas, driving scoopwheels instead of millstones. The post mill was, and remained, the most common type, about 200 standing in 1783.
The 50 years after about 1780 saw a boom in windmill construction, many new ones being established and older ones rebuilt. The peak occurred in about 1840, by which time steam mills were already appearing. New windmills were built after this date but the trend was ever downward.
A complete list of known windmill sites in Suffolk can be seen on Wikipedia by clicking here.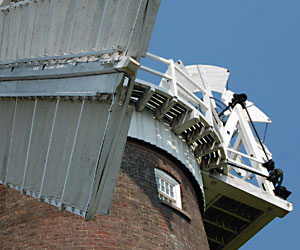 Suffolk windmills open to the public
All other Suffolk windmills
For a comprehensive list of Suffolk windmill sites click here. You will see which sites still have mill remains and where possible there is a link to a historic photograph.
This part of the website is still a work in progress and there will be more photographs being added all the time.