The Suffolk Mills Group will be formally thanked for 40 years of work protecting windmills and watermills in the county by the High Sherrif of Suffolk Geoffrey Probert at an event at Kersey mill on the morning of Sunday 22nd October 2017, circa 11 am. Members are cordially invited to attend.
Woodbridge Buttrum's Mill (an important Grade II* tower mill) is now on the market, for the first time since the 1960's. The mill is leased to Suffolk County Council until 2050. It is being sold by formal tender and bids have to be in by noon Tuesday 7th November. The details are on Rightmove and Neals are the agents.
We hear the sad news of the death of John Capps. John helped to run the Friends of Norfolk Windmills and its successor Norfolk Mills Group for many years, and organised several mill tours to the Continent. He also assisted in mill repairs through his business, Thurton Foundry. We extend our condolences to his widow Maureen and the rest of his family.
Progress repainting the buck and fan carriage at Framsden windmill. Photographs by Mr William Griffiths (16th August 2017):
Before…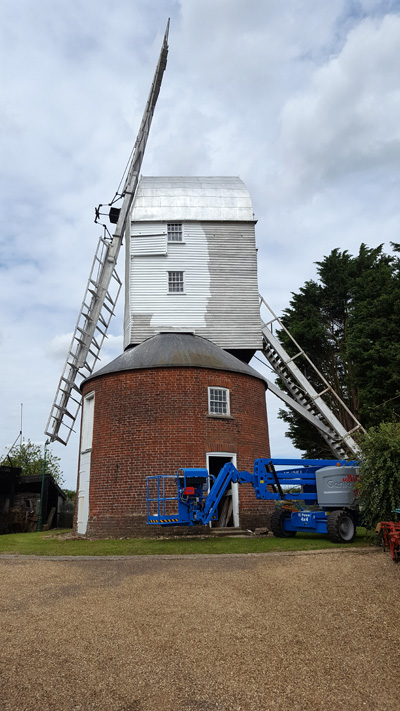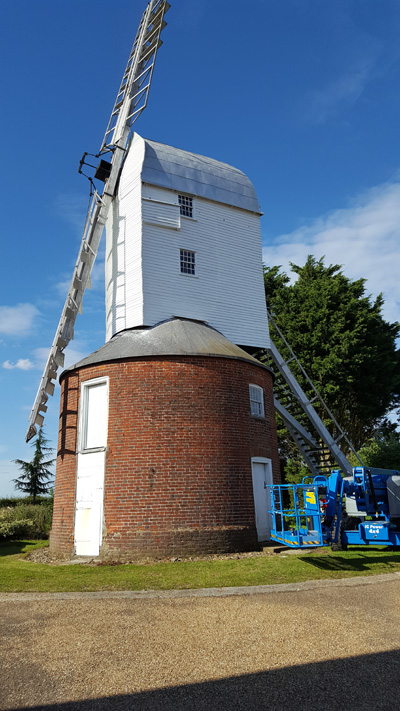 Framsden windmill is now visible for the first time in years. Don't you just miss the ghastly leylandii? Photographs by Mr. William Griffiths (April 2017)